WELCOME TO
FOXBURG FIRE DEPARTMENT
---
FOXBURG FIRE DEPARTMENT IS LOCATED IN CLARION COUNTY, WESTERN PENNSYLVANIA. OUR VOLUNTEER MEMBERS SERVE FOXBURG BOROUGH, RICHLAND TOWNSHIP, HOVEY TOWNSHIP, AND ALLEGHENY TOWNSHIP.
FOLLOW THE LINKS IN THE FRAME TO YOUR RIGHT TO LEARN MORE ABOUT THE SERVICES WE OFFER, OR SCROLL DOWN TO VIEW INFORMATION AND IMAGES OF OUR APPARATUS AND EQUIPMENT, AS WELL AS LEARN A BIT MORE ABOUT WHO WE ARE.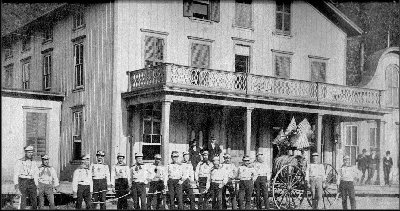 THIS IS FOXBURG FIRE DEPARTMENT IN 1877 LINING UP IN FRONT OF THE FOX HOTEL. THE UNIFORMS ARE BELIEVED TO BE MILITARY UNIFORMS ADAPTED WITH THE LETTERS 'FFD' TO BE USED FOR PARADES.
---
NOTICE
FOXBURG VOLUNTEER FIRE DEPARTMENT IS NOW EQUIPPED TO PROVIDE CARBON MONOXIDE RESPONSE. IF YOU OR A FAMILY MEMBER IS FEELING SYMPTOMS OF CO POISONING, EXIT YOUR RESIDENCE, LEAVING THE DOOR OPEN AS YOU LEAVE, AND CALL 911 FROM A NEIGHBORS HOUSE. SHOULD YOU SUSPECT CARBON MONOXIDE MAY BE A PROBLEM IN YOUR HOME, CALL THE NUMBER LISTED TO THE LEFT, OR CONTACT ANY FIREFIGHTER TO MAKE AN APPOINTMENT FOR TESTING.
---
This page was last updated NOVEMBER 12, 2000 by Ian Adams
Design and content copyright 1997-2000 Foxburg Volunteer Fire and Relief Asociation/Ian Adams
Original images and text cannot be used without written permission from FVFD Online